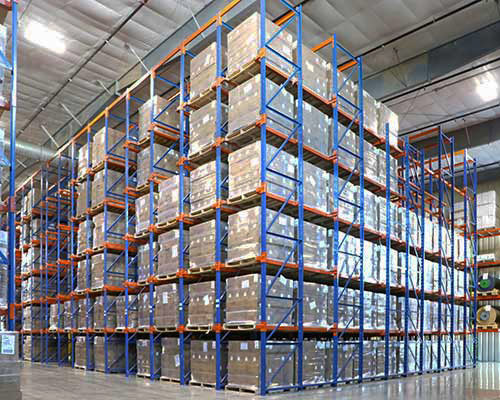 Pallet racking is a material handling storage system designed to store materials on pallets in an organized manner, with pallets stored in neat rows and levels. Warehouse storage on pallet racks uses otherwise wasted available vertical space, as well as improves over-all organization in a warehouse.
As one of the nation's largest stocking distributors of quality pallet racking systems, we're able to offer over 20 acres of quality new & used equipment and delivery to all areas in the United States, including Texas and the rest of the central United States.
We're also able to offer free expert advice! SJF's professional Solutions Specialists have over 60 years of combined experience with pallet racks of all types. We have thousands of light and heavy duty beams, column uprights and accessories in-stock and ready for immediate shipment, as well as offering installation and relocation services throughout the United States. Contact one of our Solutions Specialists if you have any questions, need advice or are interested in a free professional consultation. We'd love to chat with you!