Info, Tutorials and How To Guides
SJF's Material Handling Blog
May 30, 2013
Posted By:

SJF Material Handling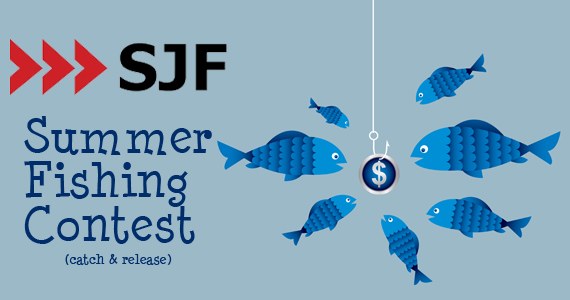 SJF just announced the start of the summer 2013 fishing contest.  All employees and their immediate families are invited to participate in this catch & release contest.  The contest runs from May – October and will feature monthly as well as overall contest winners.
Winners will be determined using a point system based on the length & species of fish caught per month and over the entire time period.  In other words, you may not win a specific month, however you can still win by having the most points at the end of the contest.
Continue reading
May 22, 2013
Posted By:

SJF Material Handling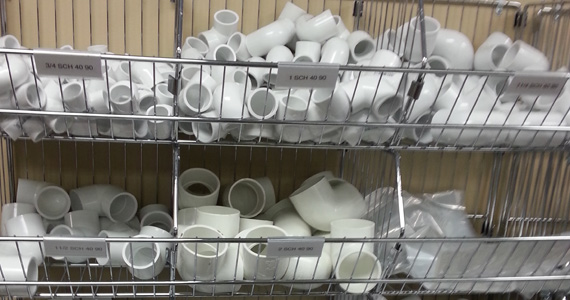 Gorman Company was founded in 1939 as a plumbing supply business in Jacksonville, Florida. Since that time, Gorman has grown from one location, to a company consisting of over 35 locations.  Gorman's product lines include supplies for plumbing, pool, and septic & well systems.
Gorman has come back to SJF several times and placed orders for wire mesh bins to hold plumbing supplies in a storage area of their facility.  They have found these bins to be useful in keeping PVC parts neatly stored, organized, and ready for use when needed.
Additional Photos
May 15, 2013
Posted By:

SJF Material Handling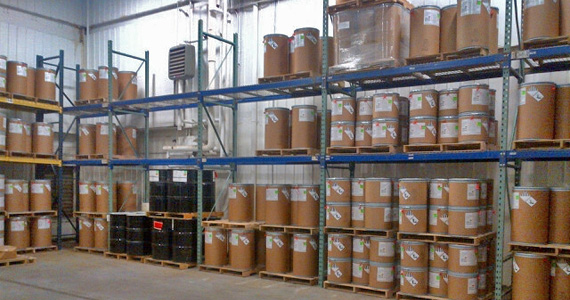 Vertellus's site in Zeeland, Michigan specializes in the manufacture of fine chemicals and custom manufacturing. Products produced here are used as intermediates for the pharmaceutical, personal care, and imaging industries as well as polymers for composite binders. Vertellus Zeeland 's technical expertise includes high-pressure catalytic hydrogenation, quaternization reactions and chiral resolution.
Continue reading
May 14, 2013
Posted By:

SJF Material Handling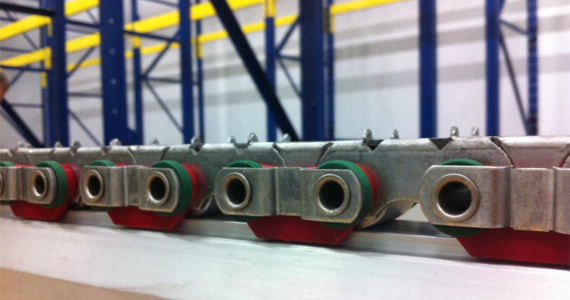 Maximum Density Flow Rail is designed to provide all of the benefits of traditional high-density pallet racking (drive-in, push-back, pallet flow) with none of the drawbacks. This flow rail system can easily store pallets up to 10 Deep!
Here are just a few of the benefits a maximum density flow rail system can provide you.
Can be installed/retrofitted on most existing racks & drive-in rack systems
No power necessary – No motors to maintain or batteries to charge.
No incline necessary – Not gravity feed. No rail incline needed.
Can be operated with a fork truck to store & retrieve pallets
Rails are Horizontal – Not angled or gravity fed
No flow rail brakes to adjust or troubleshoot
Each lane can hold a different product SKU
Rail is Maintenance Free and Rust Proof!
Can be used in low temperature environments
Easy to modify track length
Read more about this revolutionary new system & view photos and videos of its operation on our website.
May 13, 2013
Posted By:

SJF Material Handling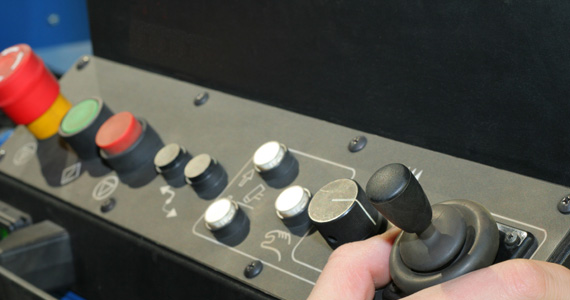 Machine controls are used in the construction industry to monitor and accurately position excavator and backhoe booms and buckets, grader blades and more. Many different systems are available and offer 2D or 3D measuring and monitoring of the position of the bucket, boom and/or blade to different accuracies. The recorded measurements are displayed on a computerized panel mounted within the cab.
The goal of these different control systems is to allow the operator to accurately dig without ever leaving the cab. The difference in the available systems is how accurately the information is displayed, machine automation and how much training or experience is required to use the system properly.
History of Machine Control Systems
For years, companies have developed machine control systems. They use different methods of measuring and reporting including mounted sensors, lasers, and even GPS. But in the early 90s, before this modern technology was available, companies used analogue technologies to measure things like bucket depth.
Companies like Novatron began developing GPS systems in 1999. New technologies like digital screens, GPS, laser measuring tools and mounted sensors were introduced in the start of the 21st century. Companies like Moba, Excavator solutions and Novatron are now leaders in 3D machine control systems.
Continue reading
May 9, 2013
Posted By:

SJF Material Handling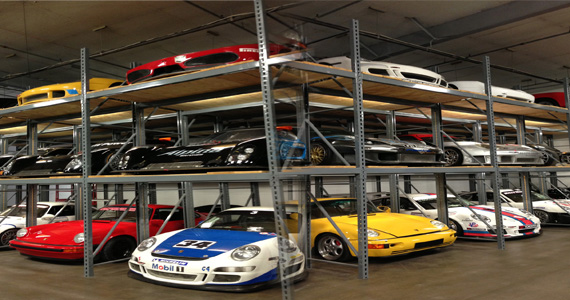 Kelly-Moss Motorsports offers maintenance, performance tuning and enhancement, parts sales and much more to race teams all across the USA.  Kelly-Moss is a complete full service auto facility, working on both customer race cars and general automotive maintenance in their street shop.  The complex also houses the Level Five Motorsports racing team. With over 22 years of experience with all major car brands, Kelly-Moss is proud to make racers' dreams come true.
Kelly-Moss utilizes SJF's pallet racking to store and organize cars for clients, keeping them professionally maintained in their new 50,000 square foot facility, located just hours from Chicago and Milwaukee.
Additional Photos
SJF is honored to help Kelly-Moss store these beautiful cars safely and efficiently.
April 24, 2013
Posted By:

SJF Material Handling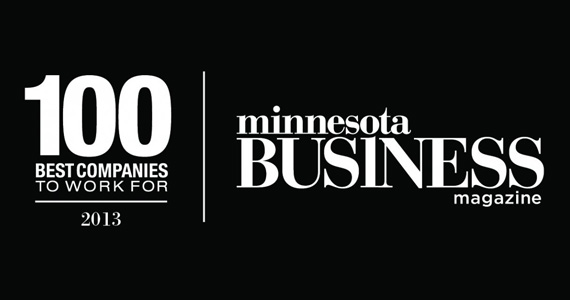 SJF is honored to be named on the 100 Best Companies to Work for in MN for 2013.  This list is compiled by Minnesota Business Magazine based out of Minneapolis, MN.
About the Nomination (From MN Business Magazine)
[this award salutes] Minnesota organizations setting the standard for employee well-being. The 100 Best are chosen using data gathered from an anonymous employee satisfaction survey administered by an independent research group. Only the top Minnesotan companies, as judged in areas such as work environment, employee benefits, employee happiness, and leadership, are selected for inclusion in the list.
There will be an award ceremony to honor all of the companies on the list on Thursday, June 6th.
Thanks, MN Business Magazine and thank you SJF employees for making this possible!
You can view the full list of nominees here.
April 18, 2013
Posted By:

SJF Material Handling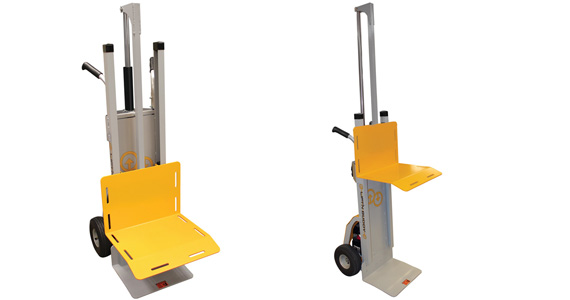 SJF just became a national distributor for the Lift'n Buddy line of powered hand carts.
Built on a lightweight durable aluminium frame with powder coat paint finish, various Lift'n Buddy models can handle loads up to 350 lbs. and lift them a full 36″ high.
Lift'n Buddy was just added to the SJF.com online store and is now available for view and purchase online at a special low introductory price of only $2,464.20 ea.