Info, Tutorials and How To Guides
SJF's Material Handling Blog
August 31, 2011
Posted By:

SJF Material Handling
Choosing a Pallet Jack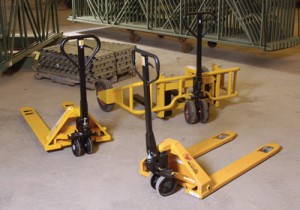 Pallet jacks are truly the unsung workhorses of the warehouse.  These pallet transporters get used and abused on a daily basis, but as a testament of their usefulness, dock workers and warehouse employees return to them over and over again, day in and day out.
Choosing a pallet jack is a relatively straight forwarded process that can be summed up in 3 easy steps.
Step 1: Decide on the Pallet Jack Type
Low profile pallet jacks have the same basic features of the standard pallet jacks but with a lowered fork height of 2" and a raised fork height of 5¼". Low profile models were designed for use with low clearance or disposable pallets. The capacity of the standard units is an industry standard 5500# while the low profile models can hold up to 4400#.
Step 2: Determine the Width Required
Measure inside to inside of the outer pallet stringers of your pallets. Select the width that gives you at least 1" clearance on either side of the forks.
Step 3: Determine the Fork Length Required
If pallets are all one size select the pallet truck fork length which matches the stringer length. If pallet sizes vary, select the longest fork length to accommodate the longest pallet.
Other special pallet jack types are also available for additional utility and functionality.
(see below)