Info, Tutorials and How To Guides
SJF's Material Handling Blog
August 31, 2011
Posted By:

SJF Material Handling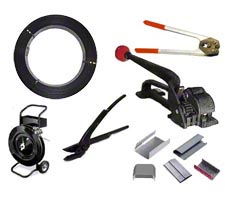 Strapping Equipment
Why use strapping at all?
Strapping is used to secure bundles of product typically for shipping and storage.  Strapping your inventory not only extends the life of the product by keeping it safe and protected during shipping or storage, but will also free up space by keeping like materials together in neat bundles for easy location and retrieval.  Strapping together bundles of material is also a safety precaution when the materials are stored in racks.  If you don't bundle your material, there is a chance that one or more pieces could fall from height and injure somebody.
How do I know what I need?
You can use the general guidelines below to assist you in choosing the right strapping for your application. Please note, these are only general recommendations – for additional assistance, please contact an SJF representative. [800-598-5532]
Rule of Thumb:
(Weight of Pallet x  1.5) / Number of Straps = Tensile Requirement of Strapping
Example:
Maximum pallet weight: 1100#
3 straps applied
(1100 X 1.5) / 3  = minimum 550# tensile strength required
**NOTE: The higher the pallet height and/or the heavier the pallet weight, the more important the need becomes for either a higher tensile strapping or more straps.
Steel Strapping
Steel Strapping available online from SJF comes in two tensile strengths: Regular Duty and High Tensile.  Each has specific uses – listed below.
Regular Duty (RD):    A low carbon steel strapping produced for low to medium duty applications, e.g., package reinforcement, unitizing, bundling palletizing and box closure.
High Tensile (HT): A high carbon steel strapping that is heat treated to produce a product which combines high strength and elongation (stretch) for shock resistance.   Typical applications are unitizing compressed fiber bales, securing heavy steel coils and open top railcar and trailer loading.   High Tensile strapping provides more footage per coil than heavy duty sizes of comparable break strength.
Polyester Strapping
Polyester strapping is the strongest plastic strapping material of the two (polyester vs. polypropylene). The highest initial tension can be applied and retained over a longer period of time compared to other plastic strapping materials. Polyester is also available in machine grade and is very easy to recycle.
Polypropylene Strapping
Polypropylene strapping is the most economical type of plastic strap and is adequate in many applications.  It has a break strength up to 2000# and comes in many different colors.  This is used in many different forms of package reinforcement and often in conjunction with cardboard boxes.
Comparing Strapping Performance & Characteristics
As you can see – each strapping has its strengths and weaknesses.  The table below outlines a size for size* comparison of strapping properties ranked in order from lowest (1) to highest (4), e.g. column one indicates steel strap as having the highest cost, polypropylene as having the lowest. *Comparisons are based on equal cross sectional areas.
| | Cost | Break Strength | Elongation | Tension Delay | Creep | Impact Resistance | Notch Sensitivity | Environment Resistance | Moisture Resistance |
| --- | --- | --- | --- | --- | --- | --- | --- | --- | --- |
| Steel | 4 | 4 | 1 | 1 | 1 | 1 | 3 | 2 | 1 |
| Polyester | 2 | 3 | 2 | 2 | 2 | 4 | 1 | 4 | 4 |
| Nylon | 3 | 2 | 4 | 3 | 3 | 2 | 4 | 3 | 2 |
| Polypropylene | 1 | 1 | 3 | 4 | 4 | 3 | 2 | 1 | 3 |
Strapping Break Strength Chart
Steel Strapping
1/2" X .020 RD, 1180# Break Strength, 2942' per Roll
1/2" X .023 RD, 1250# Break Strength, 2558' per Roll
5/8" X .020 RD, 1470# Break Strength, 2046' per Roll
5/8" X .023 RD, 1690# Break Strength, 2046' per Roll
3/4" X .020 RD, 1770# Break Strength, 1961' per Roll
3/4" X.023 RD, 2030# Break Strength, 1705' per Roll
1/2" X. 020 HT, 1485# Break Strength, 2492' per Roll
1/2" X .020 HT, 1485# Break Strength, 2492' per Roll
3/4" X .029 HT, 3305# Break Strength, 1300' per Roll
Polyester Strapping
1/2" X .020, 600# Break Strength, 7200' per Roll
1/2" X .028, 750# Break Strength, 6500' per Roll
5/8" X .028, 950# Break Strength, 5100' per Roll
5/8" X .035, 1400# Break Strength, 3940' per Roll
Polypropylene Strapping
1/2" X .026, 500# Break Strength, 7200' per Roll
1/2" X .031, 600# Break Strength, 7200' per Roll
Strapping Kits
For your convenience, we have put together some of our more popular strapping products into three easy to understand strapping kits. These kits come with everything you need to get you started with your strapping operations right out of the box.
What is the difference between a steel, polyester, and polypropylene strapping kit?
The differences lie in price, how much they can hold, and how long they can hold the strapped product. (See below for help in determining what strapping you need). Also, the steel has a separate cutter, whereas both the polys have the cutter built into the tensioner. Operationally they are all very similar.
How do I know which is the best kit for me?
Things to take into consideration when trying to determine what type of strapping you need are
Type of product being strapped
Weight of that product
How much the product will be moved around while strapped
How long the product will remain in strapping.
The following guidelines should help you with your selection.
 When to Use Steel Strapping
Extreme pallet weights – 4000# or more.
Sharp edges (safety).
Non-compressible loads, such as anything steel or metal.
The strap is the package (security).
 When to Use Polyester Strapping
Up to 3000# pallet weights.
Non-compressible or moderate settling loads.
When polypropylene fails to do the job, i.e., loads shifting, straps breaking, etc.
When to use Polypropylene Strapping
Up to 2000# pallet weights.
Moderate settling loads.
Light weight bundling.
All forms of package reinforcement.
Most palletizing of corrugated boxes.
What is the most economical strapping solution available?
Polypropylene is the most economical type of plastic strap and is adequate in many applications with a weight threshold of 2000#.
What is included in each strapping kit?
Steel Strapping Kit
1 roll of steel strapping
Box of 1000 seals
Premium Strapping Cart
Economy Sealer Tool
Economy Tensioner Tool
Steel Strapping Cutter
Polyester Strapping Kit
Polyester Strapping Kit
1 roll of Polyester strapping
Box of 1000 Serrated Seals (1/2" or 5/8")
Premium Strapping Cart
Industrial Sealer
Industrial Tensioner
(no additional cutter needed)
Polypropylene Strapping Kit
1 roll of Polypropylene strapping
Box of 1000 Seals
Premium Strapping Cart
Economy Sealer Tool
Economy Tensioner Tool
(no additional cutter needed)
When I re-order – What do I need to replace?
Unless something has broken, the only thing you will order again is the strapping & the seals.